(
mention you read the RWE blog when you place your X-mas orders and we'll throw in something extra that we have around the warehouse... could be a button, could be a patch, could be keychain.. who knows!
)
Until January 1, 2009 ROCKWORLDEAST will be charging a special flat rate of $5.89 (+ tax if applicable in your area) for all packages, regardless of size and weight, within North America, regardless of location!!
You pay $5.89, RWE pays the rest!
(It's a pretty awesome deal!)
Click Here to go to the Store>>
ROCKWORLDEAST Band Merchandise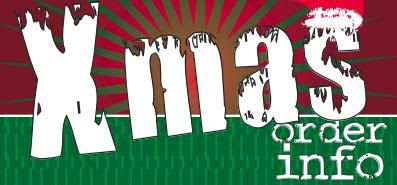 We have an excellent track record of getting gifts to customers on time for Christmas. Over the past three years, and thousands of orders, we have had only one parcel lost by USPS (and we were able to overnight a replacement and save the day)!
We take this service very seriously (Christmas gifts are a small reminder to our family and friends how much we love them) and often work overnight shifts during the holiday to ensure orders ship quickly.
Click Below for specific ordering deadlines for your area:

Happy Shopping!