The Christian Metalcore band,
The Devil Wears Prada
, released their album
With Roots Above and Branches Below
on their new label,
Ferrett Records
on May 5th, 2009. TDWP are experiencing huge successes including topping various music charts, appearing on the cover of this month's AMP Magazine and touring across the USA on the Vans Warped Tour.


This week, ROCKWORLDEAST has opened it's Online TDWP Merchandise Store:
The Devil Wears Prada Merchandise @ ROCKWORLDEAST
The Devil Wears Prada




Baked Goods




Girls T-Shirt




$16.99 US


Click to Purchase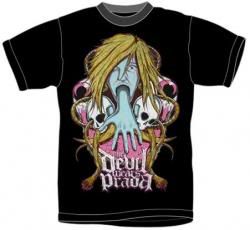 The Devil Wears Prada




Hand Slim Fit




Unisex T-Shirt




$16.99 US


Click To Purchase
Here's what the band had to say about their current success (posted on their MySpace May 13, 2009):
"
Wow, that's all i can say. Wow. No, actually i can say more:I'm sitting here in my room, pacing back and forth, standing up, sitting down, standing up, walking. walking. pacing. sitting down. I'm so extremely overjoyed, and filled with happiness. Our record debuted at #11 on the top billboard charts, #4 on the rock billboard charts, #1 on the indie billboard charts, #1 on the Christian billboards, and #1 on the heavy music charts. Wow. Seriously. Wow. All of this and we were #1 on the itunes rock charts and #2 on the itunes music charts for all album downloads."
- Daniel & TWDP
Have you heard the new album yet? Leave your comments and tell us what you think.